Carrier RFP Support
ShipMatrix, with its extensive experience in transportation consulting, can provide support in the RFP process to guide you into gaining parcel discounts
Winning Combination with ShipMatrix
ShipMatrix's support in the RFP process can provide great benefits for both shippers and carriers alike.
For shippers, a direct impact analysis tailored to their shipping business can be provided through our expert data analysis, benchmarking, and proposal reviews.
For carriers, ShipMatrix's experience streamlines the process of receiving shipper data in the correct format for making proposals. Outlining shippers' unique needs and considerations can improve customer experience as well as loyalty.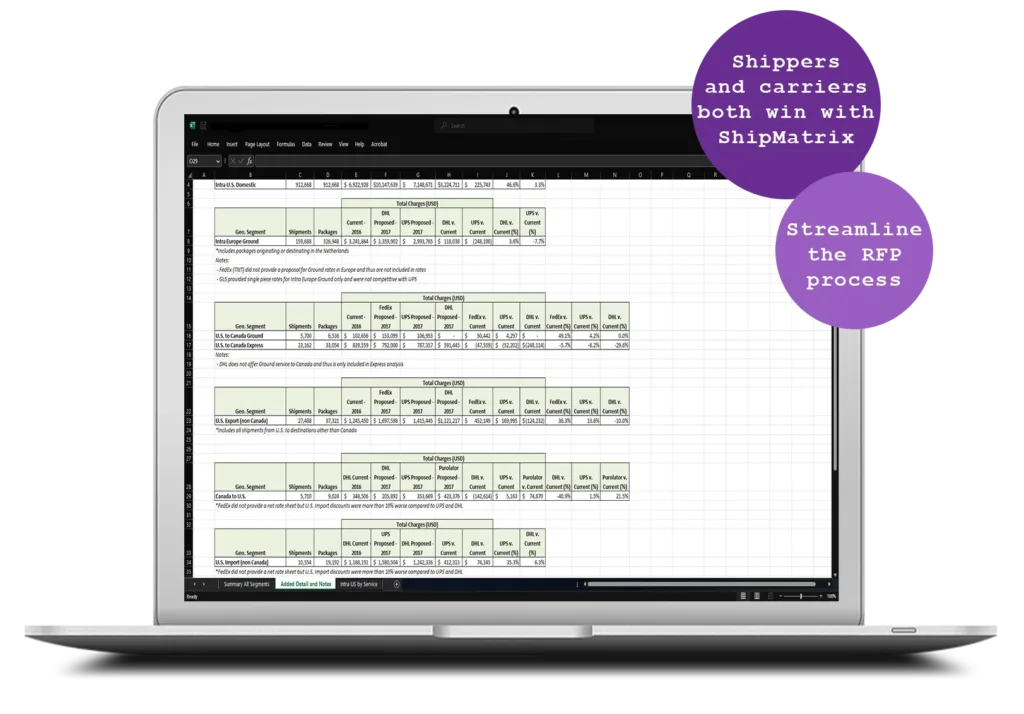 RFP Preparation Support
ShipMatrix assesses your shipping data to create a "Shipper Profile" for your RFP, using criteria like shipment mix, weight and service type distribution, average weight and zone by service type, and package density. We benchmark your profile against comparable contracts and your current contract to identify favorable RFP outcomes. Also, we identify your unique business needs, growth opportunities, customer experience expectations, and future requirements. This helps to ensure a comprehensive RFP and strengthen the Shipper-Carrier relationship.
RFP Response Analysis
ShipMatrix offers a thorough analysis of carrier responses to your RFP. We use your shipping data to generate reports that compare each offer across multiple service types. These reports, combined with our exceptional carrier service performance reporting, provide you with all the necessary information to achieve maximum savings and optimal service for your shipping requirements.