Invoice Auditing
ShipMatrix customers are incorrectly billed for up to $8 million per year on parcel invoices. Ever wonder how much you are overpaying? ShipMatrix's parcel invoice auditing can help!
Parcel Invoicing is Complex
Parcel invoicing has evolved from simple to very complex. Back in 2007/2008, FedEx had 476 documented charge codes. UPS, with their older flat file/CSV format, had 68 distinct codes; the newer Billing Analysis Tool (BAT) format had 856 documented domestic charges.
Today, that same FedEx format now has 3,042 documented charge codes. The UPS BAT format has 2,536 listed charges in their charge description list.
If you are not auditing parcel carriers' invoices, you may be paying too much and not in SOX compliance if publicly traded. ShipMatrix can help you with both such needs.
While never intentional, mistakes happen during the invoicing process.
It's up to each shipper to monitor their invoices for errors. ShipMatrix reviews invoices at charge level (some carriers have THOUSANDS of different charges) to help make sure you aren't overpaying for your shipping.
Invoice variance reports are downloadable into Excel for easy submission to carriers.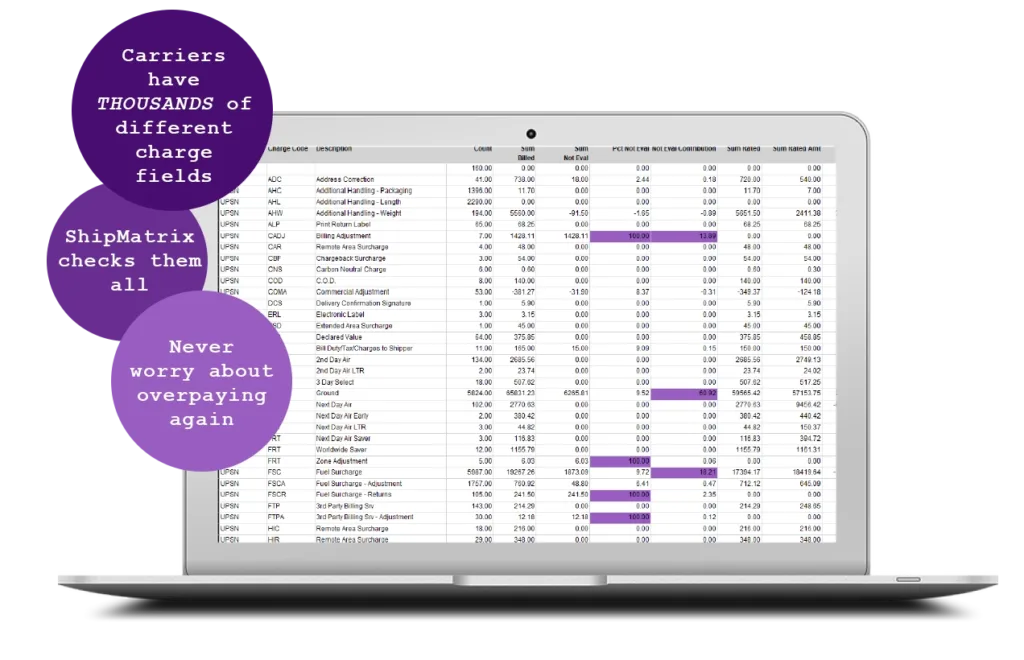 Vanguard Fined for Misleading Money - Market Fund Customers
September 2020 statements displayed an estimated yield of 1.87% for one money-market fund. A month later, after Vanguard corrected the error, statements showed the same fund with an estimated yield of 0.06%.
JPMorgan Chase Working to Reverse Double Payments on Zelle
JPMorgan Chase said some of its banking customers who use the payment app Zelle had their checking accounts mistakenly charged twice.
The Impact of Billing Errors
Recent incidents involving major financial institutions have highlighted the detrimental effects of billing errors. For example, Vanguard Group faced fines and censure for overstating projected yield and annual income in money-market funds. As a result, incorrect information was conveyed to customers [read article]. Similarly, JPMorgan Chase encountered a glitch in its payment app. This resulted in duplicate charges for some customers [read article]. These incidents underscore the potential consequences of inaccurate financial reporting and emphasize the need for meticulous invoice auditing.
SMx line item rating ensures you are being billed at the rates you negotiated
Be confident that you are being billed according to your contract, not paying for shipping charges of other companies, for parcels that never got shipped, or duplicate charges for the same parcels
A 180 day invoice review for a new customer showed substantial rate variance. The carrier had incorrectly loaded the rates and our customer landed a

$250,000

check and an apology from the carrier.
ShipMatrix discovered a customer with a rate cap was billed

$100,000

in overcharges after the rate increase for the new year. The carrier made the corrections and thanked the shipper for the quick identification.
A shipper with a contract waiver was charged

$15,000

in one week in Service Charges. ShipMatrix alerted the customer, saving them

$780,000

on an annual basis.
For a retailer, ShipMatrix identified multi-weight parcels billed as single piece due to induction at two facilities. ShipMatrix saved the customer more than

$1.5 million per year

or

10% of total parcel spend